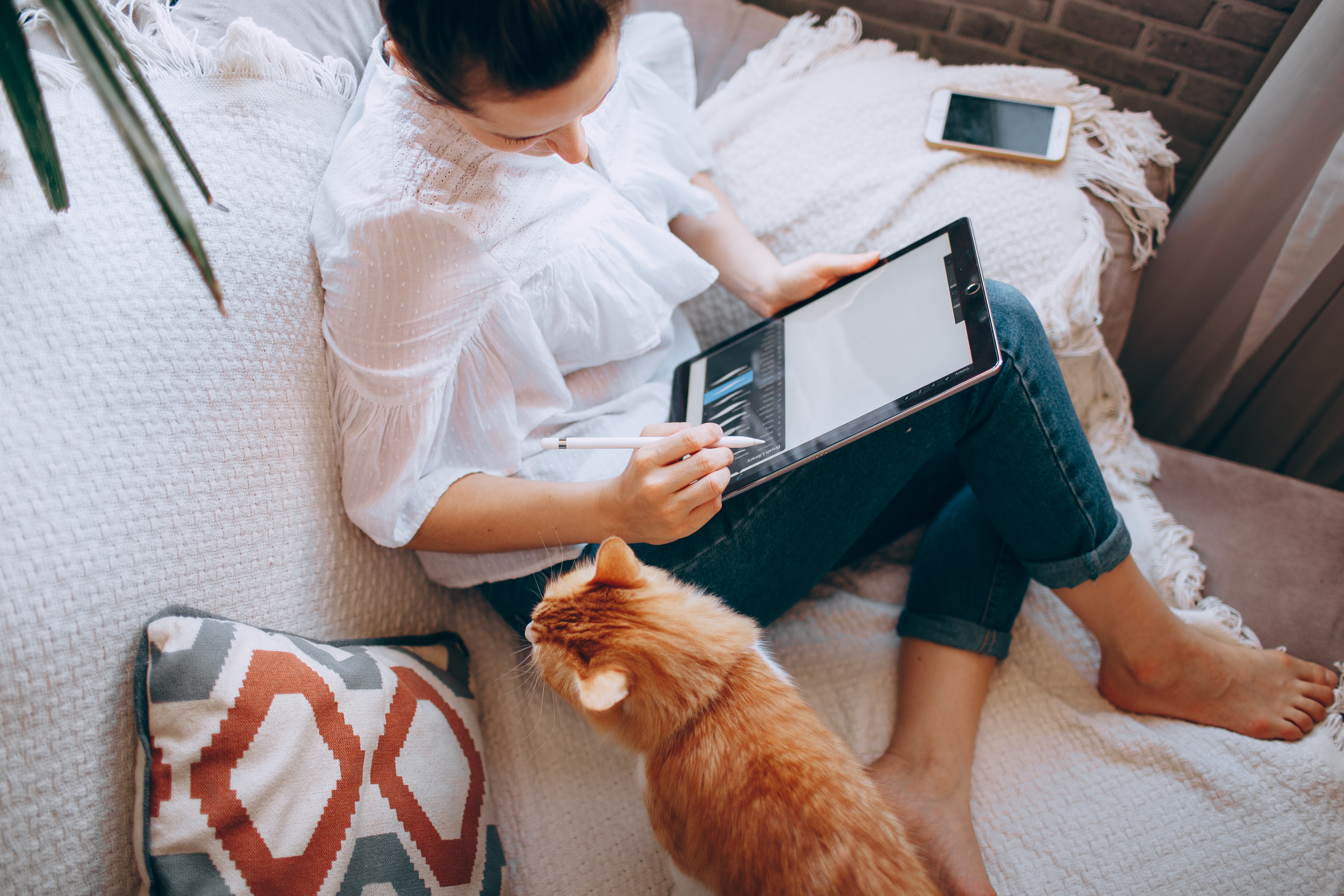 22 Feb

5 Ways to Make Working from Home Effective, According to a Therapist

Working remotely can be easier than you think with the right formula! Who would ever believe that working online would be the new trend for billion-dollar industries around the world? There is no doubt that the landscape of work has changed and what used to be a convenient 9 to 5 job is now a home office, either in the living space of your cozy home or garage situated somewhere in a  remote working environment for both employers and employees. The ever-changing era of 2020, will surely be a year to remember as we all spent a lot of our time trying to set up the right working environment with online meetings, online chats, online applications, and online conversations with bosses about dos and don'ts in our home office. Not to mention those fatigue back-to-back meetings with high-caliber clients and board members.  Finally, let's not forget to mention stress and anxiety attacks over deadlines that caused us to become antisocial with our family and friends as the home office became the number one priority in our life! In all our working environments the employee faces a number of hurdles that can cause stress and reduce productivity, motivation, and innovation. Just thinking about it makes you burn out, not alone managing a home environment, which in many cases can be a cradle for newborns, babies, and teens roaming around the office computer and asking a pile of questions as to why you are home!  How can we balance remote work from our homes without encroaching into our personal lives? The latest interview with Dr. Kyriacos Veresies, a specialist in mental health and psychiatry at Veresies Medical Center in Cyprus, has outlined some of the best ways to develop a healthy and productive home working environment. Like everything else we do in life, it might require a little bit of discipline at first but all in all the effort will pay off, as you will have established the formula to have lasting relationships that are most suitable for you, your family, and colleagues.
Become Self Aware
Self-awareness is the key factor for developing the best working relationships and environments that will enable you to work effectively and efficiently. A formula that will be set according to the needs of your work and recognize your strengths and weaknesses must be prepared by you before setting up your home office. Be aware of your purpose in the company and understand why you are working from a remote location to be as productive as possible. You need to recognize that you are working for a specific purpose and you are remunerated accordingly for being responsible for the duties and responsibilities that were assigned to you. Your input on these matters will enable you to be more effective and productive to your company. This awareness will give you a feeling of satisfaction, build your self-confidence along with self-esteem and become more content with your working abilities. 
Create the working environment suitable for your needs
Allocate your home office into what is suitable for your needs. Go that extra mile and add that coffee machine you always wanted next to your computer or background instrumental music while working online, hence creating a comfortable environment that will keep you focused and away from loud distractions, such as building sites or overpopulated coffee shops.  Whether you are working in the garage or living room suite make sure it is comfortable and has the essentials required for remote working. This means you might need to furnish yourself with some office equipment such as a computer or printer and furthermore, upgrade your Wi-Fi connection to be fast enough for online work, meetings, and downloads.
Be assertive
Being assertive means being disciplined and standing up for your rights. To have a successful home office you need to have a formula that is suitable for you and the company. This means, getting up early in the morning, putting on your working hat, smart casual office clothes and by all means, refuse to stay in your pajamas all day! Change the setup of your online work, time to time, as this will also change your mood and increase your productivity. If you do not have an actual home office, then once a week you may work from your living room,  then rotate to the kitchen, garage, and even outdoors on the balcony whenever the weather allows it. The ultimate Time Management is another factor that should not be neglected. Once you set a certain time frame for meetings, you must abide by them. This includes short coffee breaks, stretching and walking around to relax, and having short chats either online or with other members in your surroundings when needed. Moving your feet up and down while on the chair can also help in your blood circulation and wellness, try doing this as many times as possible throughout the day. Last but not least, keep your phone away from your computer as this can be the number one distraction and make you lose valuable time by replying to text messages that are not even of any importance.  Social media, along with messages from family and friends will only make you lose time away from your emails or projects and thus work after the set time frame of your schedule.  Keep a closed-door whenever possible and request from other people in the home to knock on your door before entering, to keep you away from any unnecessary distractions. Have a code when you are busy and do not want to be disturbed by hanging something on the door like a charm or no entry sign. This will increase your productivity and keep you focused on your daily routine. Once you have completed your day's work, make sure to turn off that computer at the end of the day and try not to reply to any more emails through your phone outside the set office hours.
Create suitable working relationships with family and friends
Working from home can be stressful at times and even nerve-wracking. Loneliness and isolation were also some of the words that popped up when asked people how they feel while working from home. Even though many employees gain time from traveling long distances to and from work, they would still rather work in a visual office and get out of the house and become visible social figures. Relationships between home and work must be separated thus secluding feelings that should not interfere with the overall home office environment. Communication is another major that will need to be endorsed with colleagues and family that can have an effect from work from home. Essential communication skills will create a productive environment that can make corporations envy the productivity of your services. Depending on your situation, try to find ways to separate work life from "normal" home life! Try to switch off and unwind as you would do on any other workday of your life.
Take up a hobby and stay connected
It is important to stay in shape and keep up your mental health with activities that will make you happy at the end of a day's work. Go out for that nature walk or register in one of those activities that you always wanted to do, but did not have enough time to do it. Creative hobbies such as art, theatre, and dance can produce endorphins that produce the feeling of euphoria and increase the feeling of pleasure and wellbeing. The latest research has shown that even a few minutes a day of intense short snack exercises such as one-minute squads throughout the day is equivalent to a full 40-minute workout. Try to set up a workout routine that will be suitable for needs at least three times a week. Go out and socialize and say "yes" to family and friends invitations that will help you stay connected.
Conclusion
Remote work is becoming more common nowadays as it has many advantages for both employees and employers. It is a wave of the future and saves lots of time and money. Employers need to realize that remote work is here to stay.  In the United States, 54% of US workers work remotely at least once a month and 18% of US workers work on a full-time basis. Finally, it is estimated that by 2028, 3 in 4 employers will offer some kind of remote work schedule to their employees. Stay connected and begin your online career today!