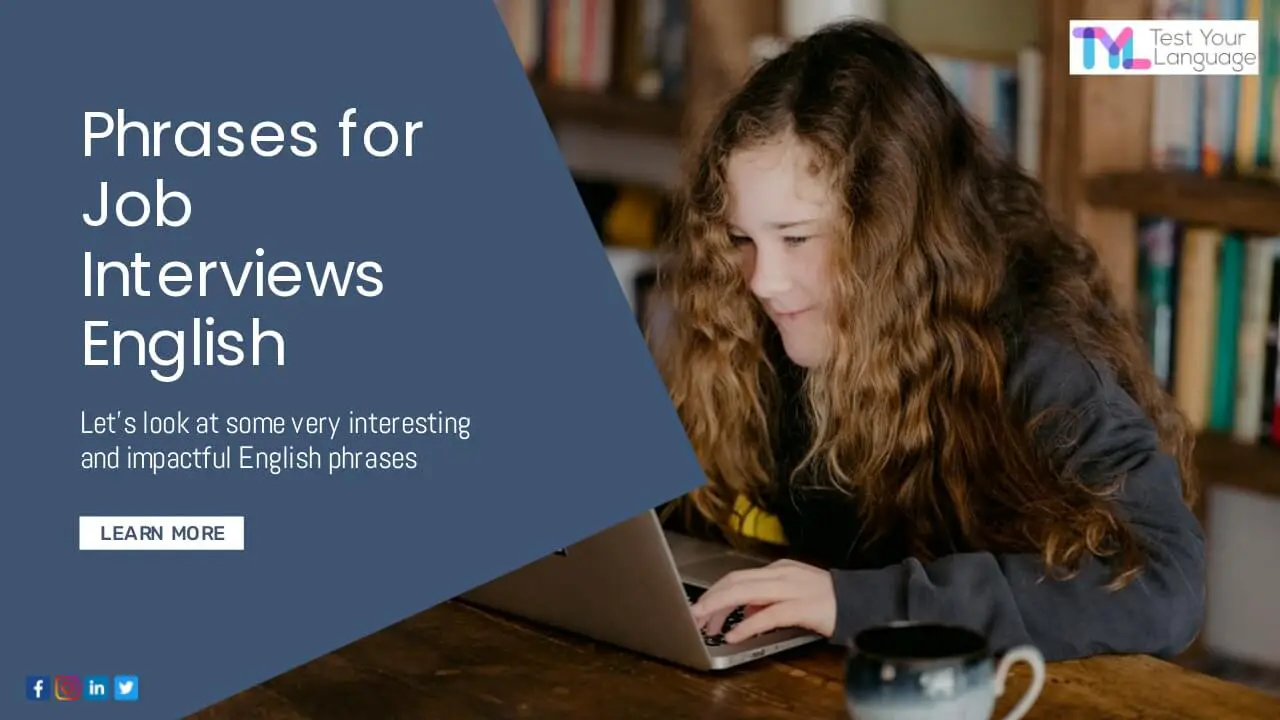 16 Jul

Useful Phrases for Job Interviews in English

What is the way to crack any job interview?  And how can you give an impactful interview? The answer to all these is communication skills. If you know when to use any word in front of interviewers then you can easily crack any job interview.

To solve this problem of yours, today we have brought some such phrases of English for you, which you can easily use in natural form during the interview and give an impactful interview. The choice of words and phrases has a great impact on your interview.

So, let's look at some very interesting and impactful English phrases which you can use to put impact in your interview.

At the time of describing your personality

Whenever we go to an interview, first of all, we are asked about our personality. So how can we skip this step of the interview? You can use the following phrases when describing your personality.

However, whenever you use these phrases, you should always keep in mind that you are not using these phrases forcibly, rather it is running in the same flow as your other things.

Hard-working
Trustworthy
Methodical
Honest
Proactive
Committed
Easy going
You can easily use all these adjectives in your personality introduction. You can also use intensifiers like very, extremely, incredibly, etc. To make an extra punch.
Examples
I'm an extremely easy-going personality.
I'm a methodical employee
Honesty and trustworthiness are at the core of my personality
I'm a very proactive and focused and committed person to my works
When you'll tell your strength
You can use several phrases to describe your strength in front of your interviewers. But you need to take care of the fact that you do not make repetitive phrases or sentences.
Here is some phase you can use to illustrate your strengths
I'm very good at XYZ
I have an experience of several years in XYZ
I've acquired all the necessary skills and experience for this XYZ job
Working under pressure
Completing the project before the deadline
My strengths are A, B, C
I'm a solution-oriented personality
Be enthusiastic etc.
At the time of illustrating your experience
Use the following phrases wherever needed when you are asked about your skills and experience. You do not need to put all the phrases continuously, nor do you need to speak all the phrases forcefully. Speak only when it fits.
I've more than X (Number of years) years of experience in ABC (Company name) as an XYZ (Position name such as teacher, manager, executed, HR) positions.
I worked in ABC as an XYZ for X years and have also been promoted to JKL positions
I worked for XYZ for X years
At the time of characterizing your future goals and missions
You can use the following phases when asked about your future goals, missions, visions, and expectations from the company:
I'm looking to enhance my skills and experience in ____
I want to grow my career in ____ fields
I assume that my skills, experience, and personality are a good fit for this job, etc.
So, these were some of the phrases in English that a person can use during his job interview to present himself effectively to the interviewers. With the use of all these phrases, your chances of getting hired not only increase, but also strengthens your English.